Leak Detection for:
Behind walls
Under concrete slabs and asphalt
Basements
Landscaping
Water intrusion in roofs
Irrigation systems
Radiant heat systems
Leak Detection Services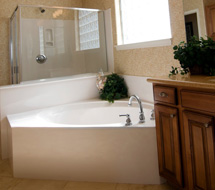 Zachary Slab Leak Detection
Leaks cause higher water, gas and electric bills and also damage to foundations which could result in a pricey thing to fix. Should you suspect a leak call AttaBoy Plumbing, Inc. to perform a leak detection service at your home or place of business. One call and you will not be sorry.
Signs that you may have a pipe leak:
Water bills that seem unusually high.
Water meter readings changing when not using water.
Sewer backup problems that become chronic.
Running toilets and dripping faucets.
Running water sounds when nothing is in use.
Spongy, soft, or discolored walls.
Musty odors from floors, walls near drains, or sewers.
Cracked, or unusually damp foundation or slab.
Warm areas on concrete floors, mildew, or excessive moisture under carpets.
In the yard, particularly wet or moist areas that are unusually wet or moist, often with very healthy (or unusual) plant or grass growth.
Whether you have water leaks, swimming pool leaks, plumbing leaks, sewer or drain leaks, AttaBoy Plumbing, Inc. can help.
Call 225-907-4134 or Click for a Plumbing Contractor.
AttaBoy Plumbing, Inc. | Zachary, LA

East Baton Rouge Parish – West Baton Rouge Parish – Ascension Parish – Livingston Parish – East Feliciana Parish – West Feliciana Parish