AttaBoy Plumbing, Inc. Perks:
Courteous Technicians
Prompt Service
Plumbing Repair, Installation and Replacement:
Water Heaters
Tankless
Heaters
Sump Pumps
Ejector Pumps
Backup Pumps
Garbage Disposals
Faucets
Plumbing Cleanouts
Kitchen and Bathroom Sinks
Toilets
Bathtubs
Showers
Residential Plumbing Services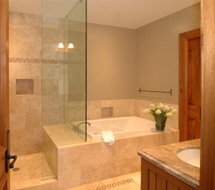 The AttaBoy Plumbing, Inc. plumbing contractor performing your plumbing services is professionally trained, and knows how to get down to business without making you feel like just another customer. Whether cleaning out a clogged drain, installing a new water heater, or providing sump pump repair, our plumbers will make you feel comfortable and confident in their work.
Water Heater Repair & More
AttaBoy Plumbing, Inc. can help you with any form of residential plumbing service needed, from replacing water heaters to drain cleaning to remodeling. Call us today for a reliable, competitively priced, trained plumber and you won't regret it!
Specialty Residential Plumbing Services
AttaBoy Plumbing, Inc. also performs specialty plumbing tasks, like leak detection and sewer line detection. If the water is finding a way to get out, we will certainly find a way to get in and identify the problem. With our state-of-the-art equipment and methodology, we find all kinds of concealed leaks, no matter where they may be hiding. Don't get stuck with higher water bills because of leaks- call AttaBoy Plumbing, Inc. today!
Call 225-907-4134 or Click for a Plumbing Contractor.
AttaBoy Plumbing, Inc. | Zachary, LA

East Baton Rouge Parish – West Baton Rouge Parish – Ascension Parish – Livingston Parish – East Feliciana Parish – West Feliciana Parish